SteveWillSendIt
Calling himself a pro gambler and drinker, SteveWillSendIt is one of the craziest casino streamers you'll find on Twitch. He is well known for his outrageous pranks, and you certainly get a bit of this action when he's streaming. From crazy jokes while spinning slots to trolling live dealers, SteveWillSendIt streams are a riot.

Behind the name is Steve DeLeonardis. You might have already heard of him if you're into prank videos. Steve is part of the Nelk Boys, which has a Youtube channel run by American and Canadian pranksters with some pretty funniest and outrageous stunts. They're famous for their "Full Send" videos where they just don't give a damn about any of the consequences. With around 290k followers on Twitch, SteveWillSendIt is one of the most popular casino streamers. He also goes by the name SteveWillDoIt.
Streamer Name
SteveWillSendIt
Real Name
Steve DeLeonardis
Country of Origin
United States
Year of Birth
1998
No. of Followers
293,000 (Twitch)
3,200,000 (Youtube)
633,000 (Instagram)
Rohstein's Favourite Casino
>> Roobet Casino
Specialty
Crazy pranks
Largest Win
unknown
Largest Multiplier
unknown
Last Update: Mai 2021

Which Casinos does SteveWillSendIt play at?
SteveWillSendIt plays mainly at Roobet Casino. Being in the US, Steve doesn't have too many choices when it comes to online casino, but the game selection is more than decent here with well-known slots and table games from established developers. This is a cryptocasino though, and at the moment it only accepts cryptocurrency. So we've listed some reputable online casinos that traditional currencies like dollars if that's what you have on hand.
Roobet


20bet Casino

These casinos are all licensed and safe places to play. In terms of welcome bonuses, Roobet and Bitcasino.io don't have one, however they do have other promos. A good alternativ with a big welcome bonus is the 20bet Casino. There you can not only get up to $180, on top of that you will get also 120 freespins.
SteveWillSendIt Top Games
Being a bit of a prankster, SteveWillSendIt loves the interaction at live casinos with the pretty croupiers who have to put up with his antics. Of course, he's not always just horsing around. You'll often see Steve put some his gambling skills to use at Live Blackjack and Roulette tables on his streams.
SteveWillSendIt also likes to check into slots. Like with many streamers and high rollers, the high variance Sweet Bonanza and Book of Dead slots have great payout potential and are some of his favourite games.
Black Jack

Sweet Bonanza
The Dog House

Book of Dead
Baccarat
You can easily find these games at online casinos. The slots can be played for free in practice mode. Live dealers are only open for real money gambling, but there's nothing to stop you from warming up with some of the software based table games on these casino sites.
Where and When does SteveWillSendIt Stream?
There is no schedule posted on SteveWillSendIt's profile on Twitch. Casino games are more of a side game for Steve, so it kind of depends on his mood and whatever madness he's up to. He has been streaming more regularly though after a quieter winter in 2020. According to his overall Twitch stats, he's live for about 3 days a week on average.
It's easiest to just follow him on Twitch if you want to catch one of his streams. SteveWillSendIt is much more regular and consistent on Youtube, where he goes by SteveWillDoIt. New videos are added every Tuesday. These feature his crazy lifestyle more than casino games.
What's Special About SteveWillSendIt?
SteveWillSendIt, or Steve Deleonardis to be exact, is much more than a casino streamer. He's a prankster and daredevil, and simply loves doing the most outrageous things possible. Like the calling the cops with the Nelk boys, telling the cops they had a car full of coke that turned out to be coca cola. Or drinking 12 beers in 2 minutes. You get the idea. His whole thing is about doing what others don't dare to do. Steve DeLeonardis is a full blown personality and it's all over his casino stream. Casino games are just one of the many things Steve enjoys.
Is it SteveWillSendIt or SteveWillDoIt?
In May 2017, Steve started a challenge under the name SteveWillDoIt. He would literally do anything people asked him to do, right in front of the camera. These videos went viral and are now part of his regular Youtube channel, where he goes by SteveWillDoIt.
The name SteveWillSendIt started with the FullSend videos Steve DeLeonardis did with Nelk Entertainment. Full Send refers to the YOLO lifestyle, in which the boys would go full throttle to do something. It's intense and hard core commitment. SteveWillSendIt is the name he goes by on Twitch as a casino streamer.
SteveWillDoIt – A Crazy Youtuber
You would be missing out on a lot of the madness if you only watch SteveWillSendIt streams on Twitch. Youtube is actually where Steve uploads the crazy stuff he does. From surprising friends and strangers with a Rolex or a PS5, to getting a happy ending massage with a homeless man, to sneaking laxatives into Brad Martyn's drink, SteveWillDoIt is always doing something you can't imagine.
SteveWillSendIt and Nelk Entertainment
In 2019, Steve DeLeonardis met Kyle Forgeard and Jesse Sebastiani, two crazy Canadian pranksters behind the Nelk Entertainment group. If you remember the Jackass movie, then Nelk is like the Jackass guys got together and decided to do Youtube videos on a regular basis. Steve decided to join the group, and in 2020 they all decided to move to Los Angeles. Other than the coke prank on cops, they've also done some pretty funny and wild things that have gotten them arrested for misconduct. The videos they make are some of the funniest you will see, and they have a cult following with fan meetups that are so huge that police supervision has sometimes been called for.
Are the Casino Streams Fake?
A lot of people wonder if SteveWillSendIt streams are fake, especially since he has a partnership with Roobet Casino now. The quick answer is that while Roobet does give the streamer some bankroll to play with, Steve can withdraw a portion of the wins. That means it's not fake, although it's certainly not the kind of bankroll the average person has access to.
Even prior to the casino partnership, there is little reason to suspect that SteveWillSendIt is a fake streamer. His bet sizes weren't particularly high, and compared to the Rolex and Tesla giveaways on his Youtube, it's pretty small money. His casino streams are actually quite tame compared to his videos on Youtube, and this is just another hobby on the side and not his main source of income. Steve DeLeonardis was already rocking it long before he got onto Twitch.
SteveWillSendIt: Private Life
Steve DeLeonardia was born and raised in Florida. He's recently been posting some lovey dovey photos of him and his girlfriend Celina Smith. They've been together for a few years and through some rocky patches but it seems like they are back together again. Celina is most well as SteveWillDoIt's gf, and is a social media influencer herself with plenty of followers on Instagram and subscribers on her OnlyFans page.
Beyond that though, we don't know a whole lot about SteveWillSendIt's personal life. But the borders between the personal and professional are blurry when you live such an outrageous lifestyle in public eyes.
Take SteveWillSendIt with a Grain of Salt

As much as we love SteveWillSendIt's casino streams, it's important to not take everything he says too literally. During a stream on 22 May, 2021, Steve stated, "If you're gambling, you can only lose when you quit! … There is no such thing as losers in gambling. There is winners and there is quitters. Don't be a quitter! "
It was obvious that Steve was heavily intoxicated when said that, but we would just like to remind our readers that what SteveWillSendIt said is wrong. Casino games are games of luck, which means playing longer does not mean you will win. Each spin or hand dealt is independent from one another. It's important to know when to quit when gambling. It is very possible to lose everything and not win it back. Knowing when to stop certainly won't make you a loser

SteveWillSendIt on Social Media
You will find SteveWillSendIt on social media doing all sorts of crazy things, far beyond streaming slots. Here are the main channels he's on:
SteveWillSendIt on Twitch
Twitch and casino streaming is not Steve's main thing, but nonetheless he still has an impressive 260k followers. It just goes to show what a great entertainer SteveWillSendIt is, and how much online casinos have to offer. There's not much posted on his Twitch profile though, so the only way is to check in regularly.

SteveWillDoIt on Youtube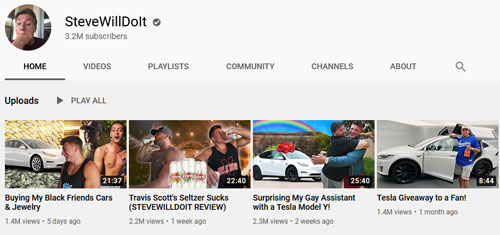 Youtube is where SteveWillSendIt, or rather SteveWillDoIt, is most active. This is where he uploads all his videos every Tuesday. Casino content here is relatively low though. While there are vids of him losing $100k in Vegas, it is mostly videos of Steve surprising friends and family with their dream car, going for hotbox challenges, eating mountains of food, as well as bailing fans out of jail. He has a huge 3.15 million subscriber count here and new videos are uploaded every Tuesday.

SteveWillSendIt on Instagram
SteveWillSendIt Instagram
account is private, but does have well over 600k followers. The content is so out of this world that Instagram has deleted some of his posts, which is probably the reason why he has made his Insta private. However, all you need to do is follow him and you'll get to see the madness for yourself.
Steve DeLeonardis has two other Instagram accounts, under SteveWillDoIt and full.send.steve. These are both public and the pics and videos are tamer, but Steve does make good use of the IGTV channel too. The SteveWillDoIt IG account has 2.7 million followers, while full.send.steve has 15.2k and specializes in Nelk Boys merch.

The
Summary on SteveWillSendIt
If you're looking for a riot, Steve DeLeonardis is your man. Whether under the name SteveWillSendIt or SteveWillDoIt, he's always out to do things the most outrageous things imaginable. From eating and drinking competitions, to hotboxing, to flirting with the law, Steve is ready to take on the world. In front of a camera, of course. On Twitch, SteveWillSendIt is a casino streamer, and the action is just as outrageous and unpredictable as he is in real life.
Article:
OnlineCasinos.tv