TrainwrecksTV
If you're into streaming, in all likelihood you've already seen – or at least heard – of Tyler Faraz Niknam, aka Trainwreckstv.

For a number of years now, he's been one of the top Twitch streamers. Originally his content was focused on his playing highly popular online games like Call of Duty, World of Warcraft, and Halo.
But over the last couple of years, he's made a strong transition into the world of online casino gambling. And now he's one of the most watched slots streamers around.
Trainwreckstv in a nutshell
* We used the following calculation to estimate Trainwrecks net worth: We estimate that 10 % of TrainwrecksTV's follower on twitch followed his links and signed up with an online casino. This is roundabout 180.000 Users – for who Trainwrecks get $100 each. This means that he has made roughly 18 million Dollars or roundabout 16 million Euro.
Last Update: March 2022
Trainwreckstv in reality – The man behind the myth
Trainwreckstv was born Tyler Faraz Niknam in Scottsdale, Arizona. He is the only child of his parents who are of Persian descent. In his youth he was somewhat of a soccer star and eventually secured himself a college scholarship at Arizona State University through his skill. There he earned a BA in a discipline known as analytic philosophy.
Not long after graduation, in 2015, he opened his Twitch account where he initially began streaming IRL (in real life) content. For many years he gained popularity playing online games like Call of Duty, World of Warcraft, and Halo amongst others.
More recently he has made the move to predominantly play online casino games, significantly changing the nature of his streams. However, he was still active playing Grand Theft Auto V (GTA V RP) until a recent ban, which when we last checked he's still appealing.
While overall he generally comes across as a genuine and congenial guy, he has also had a fair amount of controversy surrounding him. In addition to his somewhat prolific cursing, and his GTA V RP mentioned above, his 2017 misogynist rant had him banned from Twitch for five days. Though he had a similar such incident again in 2018, he's since made amends, and repeat incidents have not occurred over the past number of years.
Today he lives mostly in Vancouver, Canada, where he is more free to play at online casinos due to local regulation. He still plays soccer and does body building in between, during his free time. And his status is often discussed, with many speculations made about his girlfriend, who she is (it's rumored she's also a popular streamer), and if they're still together.
To date, he has 1.8 million subscribers on Twitch and an impressively high number of followers on other social media channels like YouTube and Twitter.
Which online casinos does Trainwreckstv play at?
Since making his move to online gambling, Trainwreckstv has focused most of his efforts on a few select casinos, with a strong preference for crypto casinos where he can gamble in Bitcoin and Ethereum in particular. This makes sense, as Trainwreck can often be heard talking about his crypto coin investments, and his love of the currency.

Although Trainwreckstv does play at other online casinos, his favorite by far is clearly Stake. So much so that he explicitly promotes Stake on his Twitch profile, where you can find an exclusive Stake promo code – APE – for a 15% rakeback instead of 10%.

His love of Stake has to do with it being a crypto-only casino, and the ease of use in such, making crypto slots in particular extremely accessible, with over 1000 from which to choose.

Trainwreckstv's favorite online casino games
Although Trainwreckstv plays at Stake in large part due to the crypto slots variety, he does show a strong preference for a few titles in particular. And those are generally ones with extra exciting bonus rounds, and of course, since he's looking for the wow factor, those with the most potential to payoff big time.
These include Extra Juicy (which has garnered him his biggest known win to date), Buffalo Hunter, Razor Shark, Ankh of Anubis, and Book of Shadows. But to spice things up, he certainly gives other crypto slots a spin as well.
Also like many casino fans, he's known to take an occasional break from the slots, and play other games. In his case, the Crazy Time gameshow from the live casino offering seems to be his top pick.
Trainwreckstv betting style
The reality is, Trainwreckstv has formed an expert "act" as a casino streamer, delivering excellent banter and narrative as he plays. And as an experienced streamer, Trainwreckstv most certainly knows what draws an audience, recognizing that one of the main appeals of watching a streamer is being able to enjoy big bets without having to take the risk. So risks he takes.
That is, much of the time, he's playing high roller style. That means you can regularly see him making what for most of us are far bigger bets than the standard, like over $1,000 per spin. Plus, since he is betting big and putting in the hours, he's more likely than most of us to make it to the point at which big bonus rounds are triggered with all the gems that they hold.
Video shows one of TrainwrecksTV's biggest wins (First time more than one million dollars during Extra Juicy free spins).
---
Uniquely, Trainwreckstv often talks to his viewers about these big risky bets he's making. On numerous occasions you can find him explaining that with his strong source of income, and relatively deep pockets, he's able to bankroll this level of gambling – so we can gain the entertainment value, while he puts up the stakes.
He has also, by the way, been amazingly honest in discussing the losses that he has endured (as much as the wins), which only goes to further humanize the Trainwreckstv viewing experience.
When and where does Trainwreckstv stream?
Trainwreckstv streams from his Twitch account. Since in the company's own words it's "the world's leading live streaming platform for gamers" that makes sense, as most audiences interested in the format are there. Like most serious streamers, he keeps to a fairly steady schedule of streaming sessions, which you can view under the 'Schedule' tab of his Twitch profile.
If you're interested in catching him, we actually recommend that you check there, so you can be sure to catch a stream of interest. Also, while dedicated to his "sport", he does not stream every single day or at the same exact hours on any given day, so planning in advance is generally your best bet. When he does stream, however, usually about 3-4 times a week, the sessions are quite long, even going up to 24 hours or more! So wherever you live, you should be able to catch at least part of the show live.
What makes "Ape" special?
If one moniker wasn't enough, Trainwreckstv actually has another nickname, being Ape. And he certainly likes to make a monkey of himself with silly antics and his somewhat loud personality. That being said, his overall demeanor goes over well with viewers, who particularly like his every guy appeal and humor.

In addition to constant narration as he plays, he is also known to be
especially engaged with the audience
, answering chats and communicating back and forth as he plays. While he streams alone, in general, Train is also known for many collaborations and often promotes other streamers that he admires, which makes for a fun buddy effect.
How does Trainwreckstv make money?
Another question that's always interesting to our readers has to do with any given streamer's net worth. Fair enough. We're all, at least secretly, wondering if this line of work pays off, and how much.
From what we know, Trainswreckstv's net worth is estimated to be around $18 million dollars. He's obviously never shared the exact figures with his audience, but one can make a reasonably educated guess based on his activities.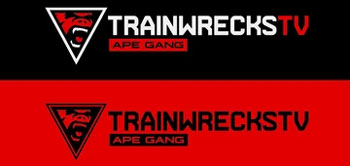 Much of his money is earned through his Twitch streaming, with so many followers. Other money comes in through his YouTube revenue, Twitch tips, sponsorships (like the G Fuel coupon code you can find on his Twitch profile page), and even casino wins. And of course, there's also his crypto investing, which we're assuming earns him some profits as well.
He also seems to be working on a merchandising site (shoptrainwreckstv.com) with things like branded threads and accessories for sale, but at last look, it wasn't quite ready yet. We'll keep you posted!
Trainwreckstv on social media
Although Trainwreckstv is best known as a Twitch streamer, he also has a very sizable following on other social media channels, making him a true gaming celebrity. So if watching him stream online casino games live isn't enough Trainwrecks for you – there are plenty more places you can follow him.
Trainwreckstv on Twitter
At last count, Trainwreckstv has over 446,900 followers on Twitter, which by any measure is not too shabby. We're kidding, it's a lot! Essentially, he created his Twitter account in parallel with his Twitch account in 2015, cross promoting himself and his activities between the platforms.
Interestingly, if you're paying attention to details, you may notice that on Twitter he goes by the alias Trainwreck (singular) whereas on Twitch he's Trainwrecks (with the s). Why this is so, is anyone's guess, but so it is.
As for his Twitter content, if you're a fan of his, his tweets may well be of appeal, though admittedly for those unfamiliar with his style, the swearing and lack of regular punctuation can be a bit of put off. Not to mention that he rambles some of the time. Though all of it taken as a whole can be rather entertaining. And sometimes it's even informative, with shout outs to other streamers to watch, occasional casino promo codes, and even once in a while, a public service address in the name of a charitable cause.
Trainwreckstv on YouTube
Since Twitch also gives you the ability to watch videos of past streams some might ask, why bother follow Trainwreckstv on YouTube? Well a full 203,000 people currently seem to find his YouTube clips worth following, and his subscriber list, we'll tell you, is continually growing. In addition to serving as a further revenue stream for him, it's an excellent avenue for watching curated Trainwreckstv clips, especially if you check out the various playlists.
As part of the Ape Gang, as Train calls his subscribers, you'll also enjoy videos of his bantering with a wide variety of other streamers on a vast range of topics beyond casino gambling, further broadening his appeal. Or you can catch his popular Chef Ape series, for yes, his cooking and dining tips.
Trainwreckstv on Instagram
Want more ways to connect with Trainwreck and see what he's up to? Well then Trainwreckstv (@tylerniknam) on Instagram is a good choice. Here you can see great shots of him at play, as well as an occasional insider's look at his personal life.
There are plenty of images of him and his beloved pup, some pretty impressive flaunting of his body building regime (and the results), and even photos of his many travels for a little inspiration. In other words, his Instagram feed is a more up close and comprehensive view of the full Trainwreckstv persona.
Trainwreckstv on TikTok
As TikTok becomes increasingly popular each day, our Trainwreckstv review of course would not be complete without a mention of his presence there as well. To date, #trainwreckstv has generated an impressive 65.3M views from content posted by fans, though he himself is not known to have an account there, yet.
Our opinion on following Trainwreckstv casino streams
Overall, in our expert opinion, Trainwreckstv is an excellent casino streamer. Having perfected his persona and the driving characteristics to engage viewers over the years, he is always entertaining. Though a bit shrill for some people's tastes, in general he is a likeable guy, with his fun loving personality, and expressive manner.
While playing online casino games yourself is always fun, all we can say, is so is watching Trainwreckstv. With his big bankroll and taste for risk, he is well equipped to take us beyond our budget, and go through the most exciting rounds – including massive losses and wins – on awesome slots games.
So if you're looking for a casino streamer to follow, with wide appeal, Trainwreckstv makes for an excellent pick. He knows what he's doing, and it shows, which makes it very engaging, and just as often, amusing to watch.

Article:
OnlineCasinos.tv