Adin Ross – Crypto Casino Streamer Extraordinaire
If you are someone who is interested in casino streaming, there is little doubt that you have at least heard the name Adin Ross. A rising star in the realm, he is an interesting character worth a profile of his own. So let's get to know the guy.
Adin's rise to success
Although Adin Ross has had a YouTube channel since 2014, his success story really only began a few years later, when a video he posted under his then pseudonym Adin2Huncho, pulling a prank on his sister Naomi, went viral.

For some time after he continued to gain in popularity playing some of the leading video games of the day on Twitch, like Grand Theft Auto V and NBA 2K. In fact, basketball gaming was the second biggest catalyst to his fame, when a spontaneous appearance by the NBA legend LeBron James, during one of his NBA 2K20 streams, catapulted him to a whole new level of fame, garnering him huge credibility. While spontaneous by the way, we'll just point out, it was not likely entirely coincidental as Adin is well known to be close friends with LeBron James' son Bronny, with whom he sometimes streamed then, and through to this day.
Nowadays Adin has made a move more into crypto casino streaming at Stake, rather than classic video games, but he does still play them at times, alone, and with friends. He also does casino streaming sometimes with friends, or pops by other player's live sessions, which is how he famously got to witness Xposed's massive $4.72 million on Hot Fiesta slots win.
And needless to say, for him, all the streaming shenanigans have all been more than worthwhile. Besides thoroughly enjoying what he does for a living, today, through his different pursuits, he is estimated to have a net worth of some $2 million. Plus, he happens to have his own page on Wikipedia, which is a pretty impressive achievement as well 😉.

Fun fact:
Within just two years, the YouTuber and streamer achieved an almost inimitable breakthrough, with more than 6.1 million people following him on Twitch, and millions more on YouTube alone.
Streamer name
Adin Ross
Real name
Adin Ross
Origin / nationality
Boca Raton, Florida / American
Birthday
October 11, 2000
Followers
6,100,000 (Twitch)
1,300,000 (Twitter)
2,670,000 (YouTube – Adin Live)
874,000 (YouTube – Adin Ross)
3,000,000 (Instagram)
4,700,000 (TikTok)
189,000 (Discord)
Favorite online casino
Stake Casino
Personality and distinguishing character traits
Likes to spread rumors, pull pranks, play NBA 2K and GTA5, engage in crypto gambling, and of course, has a great sense of humor
Highest profit / win
$877,500 playing Blackjack
Highest multiplier
Unknown
last update: July 2022

A bit of personal background
While today he is not only a successful YouTuber, but also an acclaimed Twitch streamer, Adin Ross himself reveals that his incredible career has helped him overcome a difficult past. This includes depression and suicidal thoughts – caused by a traumatic incident when he was 12, in which a relative stabbed him with a knife while he was sleeping, severely injuring Adin's arm. Yikes!
Now in his early 20s, his darker past, at least by appearances, looks like a distant memory, with his social media posts full of fun looking antics, and a rather lucrative lifestyle. This is in part thanks to his aforementioned career success in streaming, as well as strong friendships, and a solid relationship with his family.
Over the years he has had a few mishaps (like streaming while driving and some unseemly language during sessions) that slightly tarnished his friendly good guy reputation, however, due to his overall amicable nature, he has come out of them mostly unscathed.
That being said, despite being (mostly) scandal-free, Adin has a penchant for fueling rumors, with this being a big part of his appeal, projecting a 'one of the guys' type of fun. And it is not necessarily about others that he is gossiping. This includes his alleged relationship with the YouTube star Corinna Kopf, which he started, when he was seen wildly kissing her "in public" without confirming their status as a couple. This could be because despite posting under his own name, he is a reasonably private guy that likes to leave his fans guessing.
Which casinos does Adin Ross play at?
So now that we have him covered in terms of character, let's delve into the heart of the matter – his casino gambling and where he plays.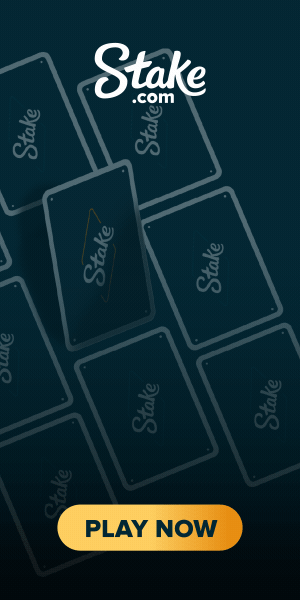 To put it simply, let's just say, when a streamer of Adin Ross' magnitude makes the move to gambling, you can bet he is a hot commodity. So while personal preferences certainly play a part in where he chooses to wager, there is no doubt that he was heavily courted as well.
For example, in one well known leak, viewers were privy to his live stream in which he had heated discussions with the operators of Duelbits and rejected an offer that was apparently about 1.6 million euros per month.
And what we know from this, or at least strongly assume, is that the competition offered him even more. Roobet is said not only to have paid him a hefty monthly fee, in the time that he played there, but also to have assumed all costs for the distribution of bonus links and voucher codes. But as grand as that deal was, he apparently got something even better as he has since moved to exclusively streaming his gambling from the popular crypto casino Stake.
The reality is, while there is likely some sort of fee in place – whether it's a monthly commission or the casino covering his losses – we really don't know. Adin has held his cards close on that front, and hasn't shared any of the details as to why he has chosen Stake.
But again, besides the deal he may or may not have with Stake, there is no doubt that he is playing there also because he happens to like what it offers. For starters, as someone who is into crypto currency, most specifically Ethereum, it suits his banking style. Plus, of course, as is well known, it is one of the best sites for playing all the top games in crypto coins, including a huge range of fantastic slots, as well as blackjack, roulette, live casino games, and crypto originals like Plinko and Crash.
More recently, we have also seen him playing Stake sports. That is, betting on various competitions through the Stake crypto sportsbook. This, however, we'll point out is more something you'll catch in his Twitter posts, as the Twitch format doesn't quite lend itself to sports betting in the same way as it does casino gambling.
Adin's favorite casino games
Adin's live streams have many facets. He not only relies on innovative bonus slot machines with numerous features and high odds, but is also obviously very fond of crypto games such as Crash and cool spins on the classics like Live Blackjack.
In general, you can catch him in action streaming his sessions across different categories. And if you miss a session, or are just looking to kill some time, you can always have a browse through his Twitch videos, or those he has shared on his YouTube channel.
As for his favorite casino games, he has never come out and named just one. But there are hints along the ways. And from what we've garnered from studying him at play, this is a small yet accurate selection of his current list of top casino games:

Crash
Live Blackjack
Sweet Bonanza
Floating Dragon
Gates of Olympus
By the way, if winnings mean anything – and we would imagine a big prize would certainly make the heart grow fonder – then Blackjack would definitely list as his number one casino game. After all, this is the game that granted him his biggest win to date of $877,500 during one of his live streams. But he seems also to like the crypto game Crash. In which he also already won six figures.
And as an aside, if you're not yet familiar with it, we'll just say that Crash is a really engaging, intuition based game, with a whole lot of thrills. To get the hang of it you can always play Crash for free, or of course, you can watch Adin stream it – and pick up on his style all the while, as he demonstrates how to play with cool calm, and nerves of steel.
When and where does Adin Ross stream?
Like all the big time players in the game, Adin Ross streams from the popular Twitch platform. It is simply the biggest and best platform for delivering all the functions a streamer needs to show his stuff, plus engage with audience members. For access, you can visit Twitch at any time to view Adin's videos of previous broadcasts. Or if you enjoy the distinct thrill of live gaming sessions, we highly recommend tuning in during his scheduled hours.
To find out what those are, simply visit Adin's profile on Twitch, and click on the 'Schedule' tab. Since he is doing this professionally, he has set hours which he generally publicizes weekly. Also note, since he is located in Florida, but has fans all over the world, he keeps to late evening hours, local time, to accommodate for this. And he usually plays about 5 days a week for around 4 to 6 hours at a time, so there is plenty of opportunity to catch him live.
And while Stake gambling now fills a lot of his time, he also knows how to keep connected with his different audiences, doing justice to categories as diverse as:
Just Chatting
Crypto slots
Live roulette
GTA5
NBA 2K22
---
Again, while you can see videos of past streaming sessions for all these categories on Twitch you can also catch some of them on YouTube as well. So that's also a good place to look if you just want to kick back and watch some streaming fun.
What makes Adin special?
For those who have never watched live streaming, it can be hard to understand the appeal. But once they catch a real pro like Adin in action, quite often these newbies get hooked too. That's because he's got that special mix.
While we are often watching for the thrill of the game, it takes a special personality to make it actually engaging. And Adin Ross has got all the right characteristics. He is an amicable guy who undeniably enjoys a lot of fun with his friends and somewhat lavish lifestyle. But he also comes across as a level-headed character, calm and concentrated as he plays.
Plus, of course, like we've said, he has got that highly social side, in which he clearly enjoys company, regularly streaming with others onscreen, like Bronny James, the son of NBA legend LeBron James, as we mentioned. In fact, since early 2020 he has been part of a group known as Stacy's Stepbrothers (i.e. SSB), which in addition to Bronny consists of streamers who go by ShnaggyHose, IziPrime, ZaneOnTheGame, OGRoyce, and Cuffemm, mostly giving gaming commentary or some IRL content, which is basically about sharing real life experiences.
Despite his amicable persona, however, he has over time had a few well recorded beefs including one with the rapper Foolio. And he was temporarily banned from Twitch for some unseemly wording used by the YouTuber Zias during one of his streams. But, overall, he is a good, fun-hearted guy, and even went the extra mile in demonstrating this with his pledge in May 2021 to donate 10% of his Twitch revenues to charity each month.
A highly public persona with a strong private side
Despite clocking MANY hours in front of millions of viewers, Adin Ross is actually a pretty private guy. While he does occasionally share snapshots into his "real life", for the most part he holds his cards close, and seems to prefer leaving fans guessing.
For example, it is not even clear if he is single or taken. Again, he likely isn't sharing that on purpose. Maybe because he really wants to keep some of his life out of the public eye, or just a guess, because he knows just how much conversation that topic generates in the fan communities on Twitter, Instagram, and YouTube.
Of course, as anyone who follows him knows, there has been plenty of speculation about his relationship with Corinna Kopf following that famed on air kiss. And his different social media accounts don't lack for pictures of him with pretty women. But like we said, where he actually stands relationship wise is anyone's guess.
In terms of family matters, again he isn't all that forthcoming. Though in this area he gives us occasional glimpses as well too. Like it is well known that his father and sister have been instrumental to his rise in the streaming world, and ultimate success. And he clearly enjoys a strong, stable relationship with them, which attests well to his character too.
He also, needless to say, does not divulge details of his earnings in particular, and definitely not his net worth. However, he can't of course hide details of certain types of income, like that he generated from his big $877.5K win on Blackjack at Stake. And based on what we know about streaming revenues, and some successful gambling stints, plus his photos, it is pretty clear that he is doing quite well.
Adin Ross on social media
Social media is Adin's bread and butter. He's not just doing it for fun, it is where he earns his income from. That being said, he treats it like a job – and one that he does exceptionally well. Truly dedicated to his profession, Adin posts new content to his social media channels at least once a day – primarily on Twitch and YouTube, but he also uses the other well-known channels to stay in touch with his followers.
Adin Ross on Twitch
As we have pretty much covered so far, Adin Ross is predominantly active on Twitch where he skyrocketed to success in less than two years. Here, he treats his 6.1 million subscribers to a nice array of different styles of entertainment including his Just Chatting, NBA 2K22, GTA5, and of course crypto gambling sessions.The reality is, if you like the guy, you may find yourself branching out beyond your own interest in say GTA to watch him play crypto slots as well, because really what this format is about, is following the persona. So if he suits your style, it's always worth a try.
Also, since we are an online casino portal, we'll just point out, in addition to simply watching him play slots – often at stakes higher than what we could afford – he can also be worth viewing for some general tips and strategy too. But more than that, we feel pretty much anyone could learn from his gambling composure, with good intuition, strong nerves, and a calm nature, when playing the slot machines or seated at the virtual blackjack tables.
Adin Live on YouTube
Strictly speaking, Adin Ross actually runs two YouTube channels – one under his name with 874,000 subscribers to date, and one called Adin Live, which currently has 2.67 million subscribers (and growing). Interestingly, the content on this channel, while wildly popular, doesn't have too much to do with his passion for casino or video games, which goes to show perhaps how truly versatile the guy is in his appeal.
While there are all kinds of other things to be found on the Adin Live channel, he has two playlists there which we'll just draw your attention to:

Basically, these playlists, and much of his YouTube content in general, is about pranks, fun, and humorous stuff, which has great entertainment value, and helps build his online persona.
Adin on Instagram
Can't get enough of Adin Ross? Then we say join his 3 million followers on Instagram for some still shots of Adin in action.
Although some would claim is Insta channel is less interesting than his other social media accounts, we actually enjoy the snapshots into his life. True, nothing totally revolutionary can be found here. But it is undeniably fun to flip through his photos, especially since they include pictures with his friends and ex-girlfriend Pamibaby.
However, we admit, it won't take more than a minute or two, as to date he only has 17 posts there, and hasn't added a picture in ages! And while he has 3 million followers, he is only following 217 accounts in return, including other successful streamers like Tyler Niknam.

Adin Ross on Twitter
We know of many streamers who have set up a Twitter account, but hardly have any content to watch there. However, to his credit, Adin maintains his page regularly, with posts that consistently manage to engage his many fans. Just how many followers does he have here? Well, on September 22, 2021 he reached the magical milestone of 1 million, which has since grown to 1.3 million, and shows no sign of slowing down.
A smart operator, he also knows how to increase interest, for example with occasional giveaways that promise a $1000 prize (and even occasionally $10,000 prize!!) to a lucky follower who likes his post. With some conditions, sometimes, of course. Overall, most of his posts are used as a way to promote his many activities – like casino gambling or sports betting at Stake. But he also occasionally shares more personal content that gives us a bit more detailed look into his life, like pictures of his dog, or a shout out to an idol or game he loves.
Adin Ross on Discord
Want more options? Well here you go. A special invitation link offers you the opportunity to follow Adin Ross on his protected Discord channel, Adin's Planet.
Here, by the way, you can get special Stake offers, though we'll point out, the ones you get with us at onlinecasinos.tv are easier to claim :-).
Adin Ross on TikTok
Last, but not least, needless to say, Adin Ross is also on TikTok. While it is not one of the channels he promotes from his Twitch account, he nonetheless has a very strong presence here with 4.7 million followers, and 74.3 million likes.
That being said, like his Instagram account, his TikTok account is not very active, with only a few handfuls of videos provided, and not updated often (which we guess is why he doesn't particularly promote it).
Still, if you like the guy, or simply want to check out what he is up to there, go for it. The videos are admittedly fun, and worth a watch.
A few final words on Adin
And that in a nutshell is Adin Ross. The young video gamer who quickly rose to fame and is now also a Stake casino streaming star.
If you haven't watched him yet, then we highly recommend at least a session or two. Because besides a few tips and strategies you might learn along the way, it is seriously just a whole lot of fun.
Article:
Adin Ross – Crypto Casino Streamer Extraordinaire
OnlineCasinos.tv