Crypto Games
You've probably heard about mini games like Stake Originals at crypto casinos. Well, there is nothing mini about these games actually. What's different about them though is that they are much simpler than traditional casino games and it's much easier to get on board, which is why they're sometimes called arcade games. They take the simplest game formats and add in the opportunity to win money, making them the most modern gambling experience.
Because these games are built on the blockchain, they can also be verified by players for fairness. This also means they were designed for crypto gambling with Bitcoin, Ethereum, Doge and the likes, which is why these games are often called crypto games or Bitcoin games. They're still a pretty fresh arena and for now are only available at crypto casinos that are integrated into the blockchain.
Other than being super cool and fun, what's special about this new format is that bet sizes and wins can be significantly higher as they work with cryptocurrencies. Their lucrative profit margins are one of the reasons why high rollers are loving these games.
Some Crypo Gambling Games Key Facts
| | |
| --- | --- |
| Number of Featured Games: | 6 |
| Most popular Crypto Game 2023: | Plinko |
| Mix between Dice & Crash: | Limbo |
| Best Casino to play Crypto Originals: | Stake Casino |
| Highest possible Max Win | 2,500,000 Dollar (Stake, Plinko) |
| Our favorite Crypto Game Feature: | Provably Fair |
Top Crypto Games at Casinos
Crypto casinos will put these arcade games in a special category. At Stake, they're under Stake Originals, while at Roobet they're listed under House Games. Having proven their popularity with players, they are certainly recurring game types at these sites although each establishment likes to give it their own special twist.
---
Plinko
Anime fans and other familiar with Japanese culture will immediately recognize the similarity between Plinko and Pachinko, where you have a bunch of tiny balls rolling down a maze of pins.
In Plinko, the balls will land in slots with a variety of multipliers and you can choose your bet size and adjust your risk level by defining the number of pins in the maze. It is very simple, but payouts can hit $2.5 million, which is significantly more than the traditional game – or most casino options for that matter!
---
Crash
Also known as Aviator, Crash couldn't be more minimalist in its design. There's a line that's soaring up, and you have to bet when it will crash. What's really awesome here is that you have the option to exit at any time before it crashes so you're not tied to your initial bet.
While it looks pretty minimal, the payouts are not. As with other crypto games, the payout in Crash can be rocket high. Each round moves pretty fast, and we promise you'll be fully engaged every second.
---
Mines
Many will probably have played the Minesweeper game on their Windows computer at some point. Mines is clearly inspired by Minesweeper, but it's even easier than the original. What you're looking at is a grid that is filled with mines. Your goal is to uncover as many squares as possible without landing on a mine.
In addition to your bet size, you can increase your potential win by choosing the number of mines you want to have hidden in the grid. Obviously, the more mines there are, the more difficult it is, and the higher the payout. The rewards are sufficiently high too, with up to a $1 million prize to be won.
---
Dice
There might an initial shock that a game called Dice only features a line and no dice. But those who are more abstractedly inclined will appreciate dice games are about the numbers the roll of the die add up to, which can easily be represented on a line, from 1 to 100 in this game's case.
Your job is to pick a number and guess whether the roll will come to a total of under or above the number. Your exact pick will come with different probabilities, and the lower the probability, the higher the multiplier, which means the bigger the win. Of course, your initial bet size will also affect the payout.
---
Limbo
Perhaps we could best describe Limbo as a mix between Dice and Crash, but maybe you already have an inkling what this game is about. Essentially, you have to pick a number that will hopefully be lower than the random generated number that will appear of screen.
What's better yet is that the number is actually your bet size multiplier, which means the higher the number, the better the payout. But if you're too optimistic and bet too high, you might not be low enough to win. Obviously, payout will correspond to your bet size parameters too, with up to $1 million at stake.
---
Keno
Keno is pretty similar to lottery and bingo. There are some cards and numbers, and you have to choose between 1 to 10 numbers to play. The more numbers you have that match the numbers generated, the better your win.
Crypto keno is really not much different from the regular game, but there is the advantage that you can customize it to suit your risk level, and hovering over the tabs in the game screen will show you your probability for winning. Of course, there's also the fact that you can play with a variety of cryptocurrencies!
Best Casinos to play Crypto Games
Casino
Bonus
Rating
No.of Games
Review
Visit
Crypto Bonus

regularly changing

+2,000
Details
Play
5 BTC

or $2,000

+3,100
Details to come
Play
Crypto Promos

Different Promotions

+3,300
Details
Play
$750

100% Welcome Bonus

+3,000
Details
Play
$/€200

100% Bonus

+2,000
Details
Play
Crypto Promos

+ Rakeback

+4,000
Details
Play
5 BTC

+ 300 Free Spins

+2,000
Details to come
Play
Bitcoin Bonus

Changing Promotions

+1,500
Details
Play
History of Crypto Games
Provably fair games like Plinko and Crash are pretty new, but crypto games in the true sense of the word have actually been around for a while in the form of a Bitcoin game. Back in 2012, when no one was taking Bitcoin seriously, there was a dice game released on the Bitcoin blockchain that let you win BTC.
The game was called Satoshi Dice, after Bitcoin's legendary inventor Satoshi Nakomoto, and people speculate that it was Satoshi himself who built the game. It was an opportunity for early day crypto enthusiasts to spend and win more coins, and the Dice games you can find at crypto casinos today are considered to be its fine successors.
Are crypto games worth it?
Absolutely. Going beyond the usual slots, card and table games, crypto games have really changed what online gambling can be. They look and feel different, and the game play is completely different as well. They take super basic games and add on the possibility to win money, and literally any player can check that the round was fair thanks to provably fair and blockchain technology. It adds a whole new dimension to gambling, freeing it up from traditional formats to make it faster, fresher, fairer and more innovative.

Other than simply being way more fun, there's another aspect to crypto games that have drawn in the more serious gamblers. And that is the potential for high bets and wins. Working with cryptocurrencies means that there are far fewer limits in terms of bet sizes in crypto games and for high rollers, this is certainly a big open opportunity.
How do Provably Fair games work?
What's really cool about these mini games is that because they are played on the blockchain, everything is transparent since the actions are available for all to see on the blockchain. Provably Fair crypto games give you the so called "hash", which is like the reference to the round you played so you can check the fairness for yourself.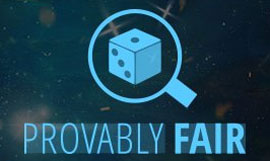 At the beginning of each round, a seed for the client and server is generated. You can view the client seed as a player, while the server seed is kept private. However, the combination of the two seeds is what creates the resulting algorithm of the game, aka the hash. You can therefore take the hash to check that all was fair and square. There are lots of free software that let you perform this verification for yourself.
Our Conclusion on Crypto Games
Every now and then, there is something truly revolutionary that disrupts the existing casino landscape. Many years ago, this was live dealer games. That of course is just standard and expected nowadays, and what's at the forefront today is crypto games.
The genius behind these offerings is their simplicity. You can now win money for playing really basic but exciting games. Who would have imagined a few years ago that you could pocket a million for making a guess on, for example a moving line every few seconds? It goes beyond fun and games though, because with Provably Fair technology gives power to the players to make sure everything is fair. And that's a game changer in the world of casinos and gambling.
Article:
OnlineCasinos.tv