Crash Crypto Casino Game – Soaring Fun and Exponential Wins
When you hear the word crash, there are likely two connotations that come to mind – a stock market crash or a vehicular crash. And neither are good. So why, one might wonder, would there be a crypto casino game with such an unfortunate sounding name?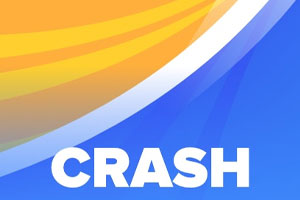 Crash crypto game review, to help you discover all the ins and outs of this exceptional game. For example, did you know that the association with both forms of the word crash above are actually correct? But here they're a good thing!
That is, first of all, while the crypto game is certainly not the same as playing the market, it does involve the same sort of speculation and gut instincts, in this case as to what multiplier the game will reach as opposed to what value the company will achieve before you cash out. Plus, like the stock market, it can be very profitable for those who invest right, while poor investments are quickly erased.
Crash at Stake
Minimum bet
0.00000001 BTC
Maximum bet
100 BTC
Maximum profit
5 BTC
Payout ratio (RTP)
95.5% – 99%
Top Crash Casino
Stake Casino
In addition, when you play the Spribe version of this game (which we'll tip you off is actually called Aviator) the rising curve that your bet is based upon is actually propelled by an airplane. I.e. the aforementioned vehicular crash. We've also seen spaceships, by the way, in lieu of the plane too.
Sound interesting? Great, let's take off and explore the multipliers, social multiplayer aspect, and adrenaline fueling this game.
Best casinos to play Crash online
As you might know, Crash has become synonymous with crypto gambling – and with good reason. That is because it was one of the first crypto games to be made available in casinos. Or perhaps even more accurately, one of the first games designed especially for crypto casinos.
Nowadays there are a number of different versions of the game available from different software providers, as well as those developed in-house at some establishments. The graphics may differ a bit between these different version, and even the exact command names you'll use for your bets, but overall the game play and goal are always the same.
Which rendering you like best will always be a matter of personal taste. But if you want our help in the matter, we can at least guide you to the best casinos for block-chain based games like Crash, which you can bet on using BTC, ETH, or LTC.
Casino
Bonus
Rating
No.of Games
Review
Visit
Crypto Bonus

regularly changing

+2,000
Details
Play
Crypto Promos

Different Promotions

+3,300
Details
Play
Bitcoin Bonus

Changing Promotions

+1,500
Details
Play
Crash basic functions and game rules
While an exceptionally simple game in terms of graphics – unlike some of the super flashy online slot machines out there – it is undeniable that there is a whole lot of appeal to this game. In fact, it is far more compelling than you might think just looking at the interface. And from experience we can attest, it quickly became a favorite of our casino expert team.
Basically, the Crash board is set up as two main parts. To the left you will find the game functions that set your bets, while to the right (or what we'd call the main center screen) is where the action takes place.
Game functions
As in Plinko, there are 3 main fields you need to complete for each Crash round: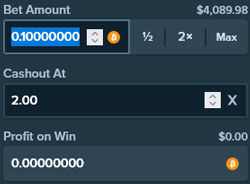 Bet Amount
Cashout At
Profit On Win
The Bet Amount field of course is obvious. This is where you set the amount of money you would like to wager per round, in whichever currency you are using.
Cashout At is essentially where you set your risk factor. That is, at which precise multiplier you would like to cash out. Or put more accurately, what number do you think the line will surpass in this round, to give you a win. The lower the multiplier you choose, the higher your odds of winning. The higher the multiplier you pick, the lower your odds of winning, however, the bigger your prize will be should you guess right.
The minimum crash point or multiplier at Stake for example is 1X, while the max multiplier is an astounding 1,000,000X (though we are not sure if the ticker has ever actually climbed that high. But if you have the patience, feel free to try.
Then finally, we've got Profit on Win which is not actually a field that you fill out, rather as the name says the amount you will profit if you have guessed correctly. While this is a reflection of the two former fields – Cashout At and Bet Amount – you can toggle those two to get this number up if a big win of a specific size is part of your goal.

Another important thing to point out here is the fact that this is essentially a live game. That is the reason why once you have set up a bet, the CTA button at Stake, for example, is labelled 'Bet (Next Round)'. That means you need to wait for the current round to be completed for a new one to begin, as all players are playing simultaneously. Luckily this is a super-fast paced game that takes just seconds per round, so the next round will begin in no time.
Main screen play
Once you have set your bet, it is time to take a look at the middle of your screen, where the game action is laid out basically as a graph. On the vertical axis you have the multipliers, and on the horizontal line is the time lapsed.
Within this framework, throughout each round a line (or airplane or spaceship depending on how graphically advanced the version you are playing is) rises until it randomly crashes. If you bet on a number above that crash point, then you win. Otherwise you lose your bet. And that is it. Win or fall.
The multiplayer social element
One of the really cool things about Crash is that it is in fact a live, multiplayer game. And because it is so popular, it is constantly in action. So even if you just want to watch, it can be pretty fun, as all bets are live, and you can see who is making them – including the amounts they win or lose.
In addition, in the main center screen, you can also see exactly how many players are in on the round, and each time someone wins with a popup, which is really cool. And since you are playing against the software, rather than other people, you can even feel happy for them :-). Plus, if you want of course, you can use the onsite chat function to gab as you play.
Bailing out early
Although already unique in its very setup – as in completely different from the online slots, roulette, or even video poker games you may be used to – Crash is also unique in that it lets you bail out early. And that includes after the game session has launched, at no loss to you.
So if you bet on a higher multiplier, and suddenly get cold feet just click the 'Cancel' button and no harm no loss. In other words, you will not lose your wager amount, though needless to say you will not win anything either. Pretty rare in terms of casino game play. And for this reason, it makes it a particularly compelling game, above one of mere chance, encouraging you to watch the screen at all times, like a savvy stock broker would do, and withdraw your investment if your instincts change.
Auto play
That being said, while this game is particularly geared to players who are really engaged in the action, you can choose to play Crash on autopilot.

In this case there are a few more fields to fill out, when setting up your bet, including how many rounds you want to automatically trigger, if you would like to increase or decrease your bet on either wins or losses, and if you would like to stop the game entirely once you reach a certain profit, or lose a certain sum. Needless to say, you can also stop the auto pilot at any point by clicking 'Cancel' as well.
Crash mobile game
Just to point out, in case you were wondering about accessibility, Crash is perfect for play on your desktop computer or on the go, with complete mobile compatibility for today's tablets and smartphones. So feel free to check it out on your Android or iOS device too.
How much can you win playing Crash?
Crash is available at a number of online casinos. Some of them develop the game in-house so they have a proprietary version, while others use ones like the Spribe software Aviator game. As such, you will find, that different crypto casinos have different paytables for the game. For example, at Stake you can make a max profit of up to $/€ 1,000,000. Also note, there is a difference in terms of the top prize depending on the currency you are using, like if you bet in Bitcoin or Ethereum, it will be different as well.

Furthermore, as you would imagine, the
max win
is dependent on your bet size. The more you bet, the bigger your winning potential. And only for the highest bets at the highest risk will you reach the million-dollar prize potential. In general, however, we would classify this as a game with very big wins on the line, that easily rival any of the
top progressive jackpot slot
titles out there.
Crash Gambling Simulator – Test the game for free
If you want a few test runs before you put real money on the table, you're in luck. Most crypto casinos do in fact offer Crash for free. That means that you can easily familiarize yourself with the game concept and its special features before placing real money stakes.
Whether you need to create a casino account and log in first, depends entirely on the operator you have chosen, and its own internal policy. While some will let you play Crash for free before registering an account, we can say most reputable online casinos these days will require you to first register, in large part to protect minors and prevent underage gambling. None of the establishments we tried, however, made you deposit first to engage in free play. So either way, you will be able to play without any financial commitment.
As for the mechanics of free play, they are exactly the same as real money rounds. The only difference is that in the Bet Amount field you set the value to zero (0). Once you have got the hang of how the game works – it should take no more than a few rounds or so – you can start with small sized bets to give real money play a try, and then take it from there. And of course, you don't have to practice with free play if you don't want. Again, with minimal bet sizes being an option, you can even start with that.
Crash – A provably fair crypto game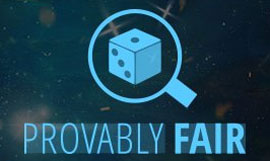 As a provably fair game – in the same way that Plinko, Mines, Dice, and other famous crypto casino titles are – Crash is designed for the ultimate in transparency. That means you can trace the win rates, payouts, and round results through the Blockchain algorithm and cryptographic hashing.
While that may sound super technical, if you are into crypto currencies, it is not nearly as obscure as it sounds. And if you look at a site like Stake, you can find a whole section delineating how each element of the algorithm works, making it easier for you to both generate and comprehend the results.
If you don't feel compelled to do so, then you like many, can simply feel safe in knowing that provably fair algorithms are today's top line security marker of crypto gambling.
Crash tricks and strategies
In terms of Crash tips or tricks, there really isn't much to say. While we are certainly the first to point out any tactics that can help our readers win, or at least bet better, this is really more a game of intuition than strategy.
As such, we'd say, the challenge in playing Crash is primarily about finding a good middle ground that is financially reasonable (for you) and still worth playing. Or put more simply, finding that ideal balance between your budget, winning goals, and appetite for risk.
Other than that, this is a game of luck, and luck alone. And in this, it can be compared to the market too, as even the most successful hedge fund manager, stock brokers, and casual investors, no matter how much research and due diligence they do, are to a large extent relying on intuition and gut.
The only difference here, as we said above is the bailout option. That is, closely following the curve can work to your benefit – allowing you to cancel your bet, with no financial loss if you get cold feet before your chosen multiplier is reached.
Our conclusion: Crash is perfect for intuitive players
Bottom line, we think Crash is an excellent game. It is always fun and incredibly interesting to follow (even rounds we haven't bet on!). Overall, we would say it has universal appeal, though if we had to narrow it down, it is probably best suited for players who have strong instincts, or are apt to trust their gut in particular.
The best way to determine if it is right for you, obviously, is to try it yourself. And since it is easily available for free, then this is a great place to start. Once you do, we are pretty sure you will like what you find. Because in reality, this is a game that offers bettors of every budget level and risk appetite something to enjoy. And if you like the social multiplayer aspect, all the better.
In other words, we say, simply try. Who knows, you could end up a millionaire, or you may simply have a whole lot of fun!
Article:
Crash Crypto Casino Game – Soaring Fun and Exponential Wins
OnlineCasinos.tv